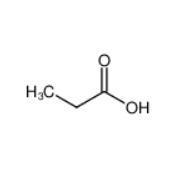 Propionic acid (from the Greek words protos, meaning "first", and pion, meaning "fat"; also known as propanoic acid) is a naturally occurring carboxylic acid with chemical formula CH3CH2COOH. It is a clear liquid with a pungent and unpleasant smell somewhat resembling body odor. The anion CH3CH2COO− as well as the salts and esters of propionic acid are known as propionates (or propanoates).
Packing:
1) 200kgs/drum, 16000kgs(80drums)/20'FCL, 25600kgs(128drums)/40'FCL

2) 1000kgs/IBC, 20000kgs(20IBCs)/20'FCL, 26000kgs(26IBCs)/40'FCL

2) 22800kgs/ISOTANK

Quality:
Purity ≥99.5%
(For more details, please contact us for the COA.)
Our Advantages:
1) We have over 20 years experience in chemical solvents, we guarantee offer high quality product, reasonable price and excellent service.
2) We have our own chemical sub-package warehouse, can do CIQ and supply hazardous cargo packing license.
3) Company located in shandong province, which is famous for its chemical industry in china, and for most chemical products we can found producers here.
4) Nearby the world-famous seaport Qingdao. Thereby we have smooth transportation ways for our worldwide clients.